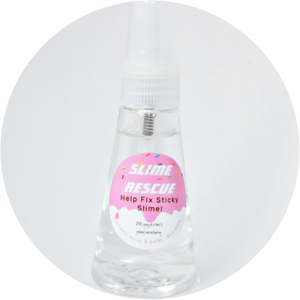 ABSOLUTE MUST TO FIX STICKY SLIME!!  
Warmer climates and/or shipping can cause slime to be sticky.  This is totally normal!  When you purchase slime, you always need to adjust consistency and activate!
2oz or 1oz spray bottle. 
Spray on slime. Knead and stretch until stickiness goes away.  Repeat if necessary!  
Spray 2 to 3 sprays at a time.  Keep spraying until not sticky. 
Do not over spray or you will over activate.  Resulting in slime that does not stretch. 
If you over activate, add lotion to slime until stretchy. 
Important to wash hands and apply lotion before and after play.  Keep out of children's reach.
contains:  borax & water
TIP:  YOU CAN REFILL THIS SLIME RESCUE BOTTLE!  We give you a bag of borax powder with every order.  You can make your own SLIME RESCUE by diluting whole bag on borax in 1 cup of hot water.  Reuse & refill your bottle!